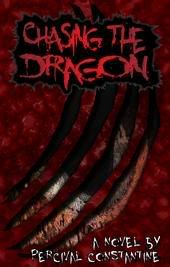 Author:
Percival Constantine
Types of Werewolves

:
bipedal 
How Lycanthropy is Caused:
genetics 
Synopsis
:

W

erewolf Riker Stone meets a waitress whose daughter has run away with her drug dealing boyfriend. Riker goes to bring her daughter back and runs into lots of action along the way. 
Review:
 This book is full of suspense and gut-wrenching violence; just the ingredients a good  werewolf novel needs!  The story is fast-paced and I couldn't put the book down.  The only downside is that Riker's past isn't revealed in great detail and it left me confused about his relation to the drug lord Bola. Perhaps that will be explained further in a sequel. I hope that Constantine keeps his promise and that there are plenty of new Riker Stone adventures to sink my teeth into! 
-Reviewed by PenningtonBeast
For more info: 
http://percivalconstantine.omegacen.com/