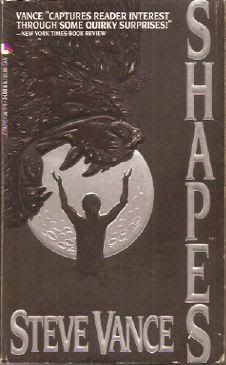 Types of Werewolves:
Bipedal
How Lycanthropy of Caused:
By a parasitic microorganism, transmitted by biting/body fluids.
Synopsis:
The survivors of the contained werewolf attack in
The Hyde Effect
discover a colony of lycanthropes living in New York state.  The colony, which call themselves "the associates" show Blake, Nick and Meg that their transformations can be controlled and even modified. 
Review:
I hate to admit that I was rather disappointed in Steve Vance's
Shapes
. I felt that it paled in comparison to the pure terror that is evident in it's predecessor
The Hyde Effect.
Also, the werewolves in the sequel are werewolves-in-name-only, really they're shapeshifters that can take any form they please after mastering the feral state of their first several changes.  I thought that the character's reactions to "the associates" and their plans were hard to believe following the events in the first book. Also, there isn't nearly enough werewolf action, things only start to get gory near the end.  Although I think
Shapes
could have been a better werewolf story, it's still an interesting sci-fi read for fans of the genre. 
The Hyde Effect
still remains one of my favorite novels despite the let down of the sequel. 
- Reviewed by PenningtonBeast