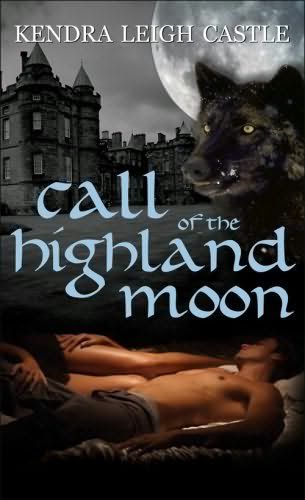 Author:
Kendra Leigh Castle
Genre:
Paranormal Romance
Setting:
Upstate New York, Scotland
Types of Werewolves:
Large Normal Wolves and Bipedal Monsters
How

Lycanthropy

is Caused:
Genetics, Infection from a Bite.
Synopsis:
Gideon
MacInnes
is a Highland werewolf taking a break from the stress of pack life while visiting the USA. When in Upstate New York, he is attacked by a pack of rogue werewolves and nearly killed. He wanders into town and lands on the back steps of Carly Silver's book store, Bodice Rippers and Baubles. Thinking he's nothing more than a large, wounded dog she takes him home only to discover the truth about her guest the following morning. Gideon believes that his cousin is behind the attack and now has to keep himself and Carly safe.
Review:
Call of the Highland Moon
unfortunately contains several of the factors that normally keep me away from the paranormal romance genre. For one, the main male character, Gideon, has little personality traits other than tall, dark, and grotesquely muscular. Carly Silver's character is only slightly more interesting. Another issue I have with the paranormal romance genre, and the werewolf romances in particular is that the whole "destined to be life-mates
FOREVAR
!" scenario is about as far away from romantic as you can get. The characters don't grow to like each other over time, they just automatically "love" each other as if it's just
something
they're obligated to do. And it feels particularly forced in this novel. Also, the author spends too much time describing most of the mundane tasks in the book and gives less detail to the action.
The villains of this book and the secondary characters are what keep it readable, I only kept going because I wanted to learn just what the
Drakkyn
were and how the Destiny Stone gave them power. Overall, I didn't find the characters to be interesting enough to read the sequels.
Call of the Highland Moon
is okay, but nowhere near great.
For more Info:
http://kendraleighcastle.com/
-
Reviewed by

PenningtonBeast