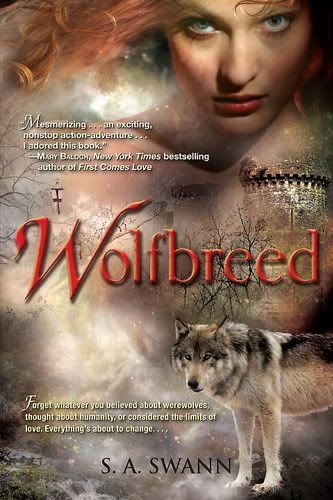 Author: S. A. Swann
Genre: Horror, Historical Fiction, Romance
Setting: Prussia 1220's-1230's 
Types of Werewolves: Bipedal Wolf Monsters
How Lycanthropy is Caused: Genetics
Synopsis: A knight of the Teutonic Order discovers a litter of werewolf pups and decides to train them into lethal weapons for use against the local pagans.  One werewolf named Lilly escapes from her captors and seeks refuge with a local farmer's family. 
Review: Don't let the cover of this book fool you, what looks like a whimsical fairy tale romance is anything but!  Wolfbreed offers plenty of bite and brutality.  This is one of the best and most original werewolf novels I've read this year. The characters are complex and the emotions are raw. Werewolf fans won't be disappointed in Wolfbreed.
Reviewed by PenningtonBeast.
For more info:
http://www.sandrewswann.com/