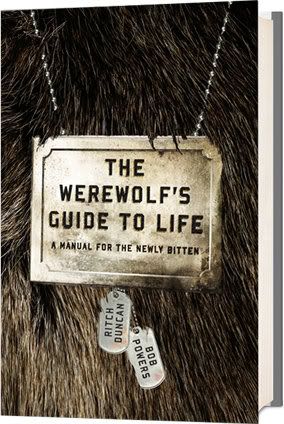 First of all, I want to thank the authors for sending me a free copy of this book to review.  That was extremely nice of you guys and I really appreciate it!
Authors:
Ritch Duncan and Bob Powers. 
Illustrations By:
Emily Flake. 
Types of Werewolves:
bipedal and quadrupedal. 
How Lycanthropy is Caused:
by getting bitten by a werewolf in his/her "wild" state or by having a werewolf father. 
Synopsis:
A manual for all the questions and concerns that every newly bitten werewolf has, and a survival guide that every werewolf needs. 
Review:
The Werewolf's Guide to life
is an original and extensive look into the lifestyles of lycanthropes. It offers in depth explanations about the cause of lycanthropy and how to manage both your wild and dormant states. The book is full of great, humorous illustrations ("We're Here! We're Hungry! Hide!!!") and hilarious titles ( "Navigating Your 
Interactions with the Smug, Effeminate Undead").  The tone is serious during the more urgent of topics, like how to avoid being hunted, which gives the guide a sense of believability. Overall, The Werewolf's Guide to Life is a fast and fun addition to any werewolf fan's reading list! 
For More info:
http://www.werewolfguidetolife.com/

Reviewed by PenningtonBeast