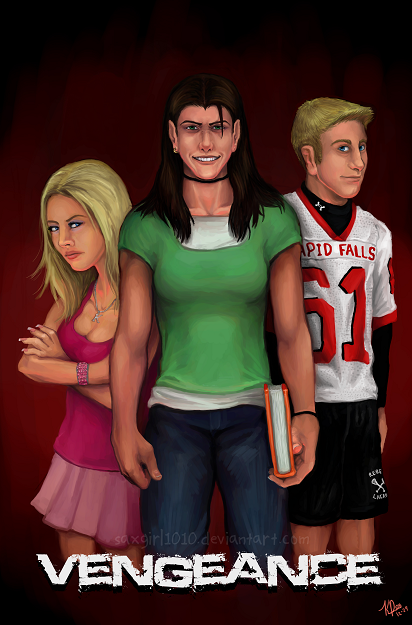 Author

:
Kelly Phillips
Illustrator:
Kelly Phillips
Genre:
Teen Drama, Horror
Setting:
Oregon
Types of Werewolves:
Bipedal Wolf Monsters
How

Lycanthropy

is Caused:
Genetics
Synopsis:
Teenage werewolf
Versa
Novak
is sick and tired of the hubris and narcissism of fellow classmate and school bully
Kayleigh
Monroe. Together,
Versa
and her two best friends devise a plan to scare some humility into
Kayleigh
and her cohorts during the prom after party.
Review:
Vengeance
is a vivid and fast-paced look at what the tribulations of high school life would look like through the eyes of a young werewolf. Anyone who has survived high school can relate to the frustrations that
Versa
and her friends have to put up with on a daily basis. One thing that would have greatly improved the book would have been to include a scene about the original prank that
Versa
pulled while in werewolf form just so there could be a little more action. Also, if there's going to be a sequel (which I hope there is) I'd like to see
Versa
take on someone or something with equal or greater power to herself. Maybe another werewolf, but at least something more formidable than the school's alpha bitch. Another thing the book could use is a little more description about the author's version of werewolves (like why
Versa
has a glowing insignia on her back). And I would have liked to know a little more about what happened to
Versa's
mother. Other than that,
Vengeance
is a promising debut novel from a young author and I'd love to see more of
Versa
in the future.
Vengeance
also contains a short graphic novel which, along with the cover, is illustrated by the author herself.
-Reviewed by

PenningtonBeast
For more info:
http://saxgirl1010.deviantart.com/
To purchase the novel:
http://www.blurb.com/bookstore/detail/756079